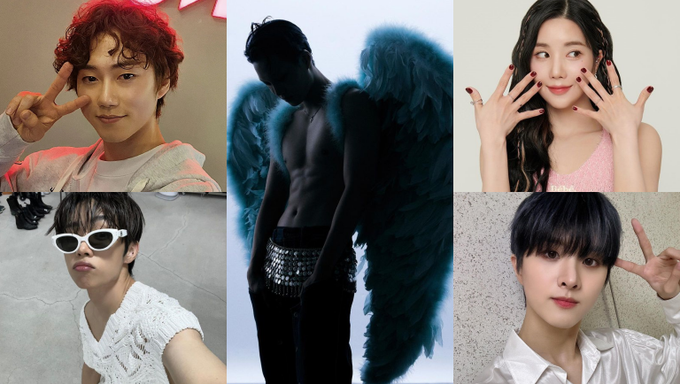 Hello everyone and welcome to another edition of our Top 15 Instagram Updates by K-Pop Idols article.
This article aims to highlight some of the best updates from our favorite members or idol groups. You can read our previous selections by clicking here. Featured updates are not primarily agency or magazine photo shoots, but mostly those taken and shared by idols in their groups or personal accounts. This includes selfies, behind-the-scenes footage, fan signing events, reels or videos. At the end of the article, we would be doing a fun poll asking which idol had the best update this week.
This week, our favorite idols showcased their talents in enchanting fans' hearts beyond the music stage, as their photography skills are also top-notch. Shining so brightly, like every fan, our fingers were super busy enjoying each update as our faces formed bright smiles as well. While there are so many updates that were great, there are a few that stood out the most, making them this week's best.
From selfies to behind-the-scenes content, here are our top 15 picks for the best Instagram update by K-Pop idols in the first week of March 2023.
Baron looks like an adorable poodle with his beautiful wavy hair in this update.
Bunny KiHyun came to play with this update and we are smiling broadly at how adorable he looks.
Looking pretty in pink and blue, we all felt a sudden heart attack thanks to Kwon EunBi's beauty.
Now we're craving ice cream too! It looks like Jeno had some fun amid her busy schedule in Milan.
Last week, WENEE received many amazing surprises from WonHo. From a special music video featuring 'FLASH' to birthday vlogs and Instagram updates.
The first 4 slides are simply the cutest pictures we've seen this week.
A YuJin with bangs is simply superior as she looks so pretty with this hairstyle.
Cuteness overload! Kim YeonKyu's adorable visuals are the serotonin boost you need today.
Dripped on Celine, Lisa simply looks beautiful in these photos.
VISUALS! That's all we can say about this update.
Always looking so fresh and cool, SunWoo makes fans smile with his endearing antics in these photos.
It's a date! Kevin and TaeDong look so warm and cute as they spend quality time together.
Kai presents fans with more photos from the concept photo shoot for his long-awaited third mini-album."wanderer".
His eyes!! Now we understand the phrase "lost in your eyes" because those big, soulful eyes leave us in a state of shock.
That's a state of mind! JeongHan looks so easygoing and relaxed in this update that we can't help but feel satisfied. Also, this gives the "POV on a cold night with JeongHan vibes".
Which K-Pop idol had the best Instagram update in the 1st week of March 2023?
※You can vote multiple times without logging in.