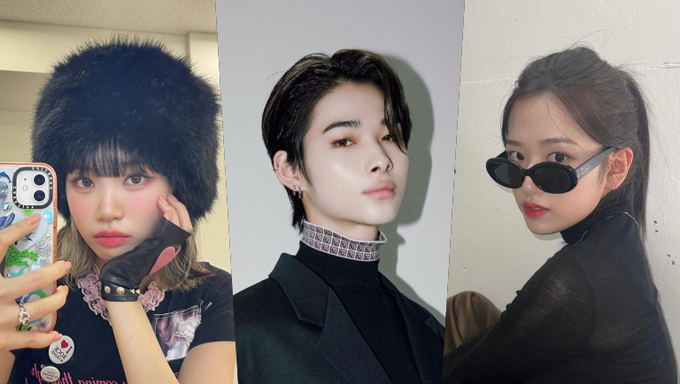 Hello everyone and welcome to the twenty-third installment of our weekly series "Top 15 Instagram Updates by K-Pop Idols". This article will showcase some of our favorite updates and content shared on Instagram by K-Pop idols. You can read our previous selections by clicking here. Featured updates are not primarily agency or magazine photo shoots, but mostly those taken and shared by idols in their groups or personal accounts. This includes selfies, behind-the-scenes footage, fan signing events, reels or videos. At the end of the article, we would be doing a fun poll asking which idol had the best update this week.
Here are our top 15 picks for the best K-Pop idols Instagram update for the 1st week of December 2022.
It's An YuJin's world and we're just living in it. A collaboration of sunglasses brand YuJin x when?
One word, 8 letters – PERFECT!
It's giving a "popular guy in high school that everyone has a crush on". Do you have a crush on Wish?
Minnie makes fans' hearts beat faster with these amazing photos. How can someone look cute and fierce at the same time?!
Find a man who isn't afraid to look goofy! With this update, RoWoon simply says "I can be the hottest in the room, but I can also be the cutest!"
Kim ChaeWon is a benevolent queen as she shares these adorable photos to bless our feeds this week.
Cha EunWoo is once again a viral sensation after his appearance in the Dior menswear show in Egypt. And he's been thrilling fans with regular updates that capture his time there.
When a Hype Boy dances 'HypeBoy'. BamBam treats fans to a beautiful danceable cover of the NewJeans hit song and we can't help but have heart-eyed eyes over how cute he is.
Kang MinHyuk brings back the #BottleCapChallenge and true to form, he makes it even more hilarious than ever!
The talented and handsome idol celebrated his birthday this week and we wish him a happy celebration filled with delicious food and fond memories.
Dino gives another meaning to the term "Be The Sun", as he is simply hot and burns the stage with his performances.
Just an endless slide of KiHyun being the lovable bean he really is.
It's a week of joy for Gyul Gyul as the handsome and talented idol celebrated his birthday. We wish him a happy birthday filled with delicious food and surrounded by his loved ones.
It seems that many talented idols were born in the first week of December, as the list of birthday celebrations keeps growing. We join his many fans in wishing the beautiful and talented idol a Happy Birthday!
How can someone be super cute and wicked at the same time? Yoo TaeYang's duality is the central focus in these photos and we can't help but be amazed!
Which K-Pop idol had the best Instagram update in the 1st week of December?
December 09, 2022 ~ December 15, 2022
Kim Chaewon of LE SSERAFIM
0%
(0)
CNBLUE's Kang Min Hyuk
0.1%
(1)
SEVENTEEN's dino
0.2%
(3)
BAE173's Han Gyul
0.3%
(4)
MONSTA X's KiHyun
0.5%
(7)
(G)Minnie from I-DLE
0.9%
(11)
SF9's Yoo Taeyang
2.8%
(36)
ASTRO's Cha Eun Woo
3.3%
(42)
SF9's RoWoon
81.4%
(1,048)