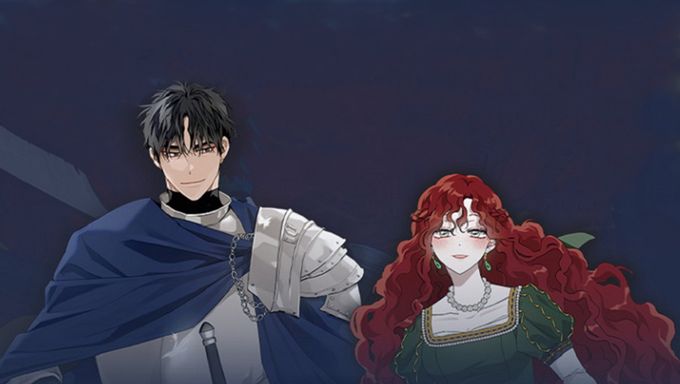 "Under The Oak Tree" is a popular webtoon by Kim Soo Ji Published on the Ridi platform since 2020. It follows the daily lives of Maximilian and Riftan, her husband. The day after the wedding, Riftan goes to war and returns just three years later. The webtoon then follows the young couple's daily life as they get to know each other. You can read more about it in our review here.
To celebrate the webtoon's popularity, an official event was organized at a cafe in Hongdae, Seoul. The event lasts almost a month, from the 4th to the 27th of November. There, you can eat and have a coffee, while enjoying an exhibition and buying some items. For example, you can buy a mousepad, tarot card, standee, postcards, keychain, computer mat, perfume and even jewelry.
🆕 × Mofun Hongdae Collaboration Event News!📢

🌳This time we moved to Calypse Castle with Lord Riftan's permission.🏰

We invite you to the feast of the lord⚔️ and the noble lady🐿️ held at Calypse Castle.

The Wizard🧙‍♂️ and the Remdragon Knights🛡️ are with you too.

Welcome to open Calypse Castle! pic.twitter.com/gPlb1qaTQW

— Mofun Cafe Hongdae AK& Branch (@mofun_collabo2) October 28, 2022
In the early days it was only possible to attend the event by reservation, but now it is accessible to anyone. However, if you want to sit down and try one of the specialty drinks offered by the cafe, you should be in luck as it is still reservation-based. Drinks include cinnamon shakerate, cherry ade, vanilla milk tea and chestnut latte. You can also eat cakes; chocolate, red velvet, earl gray or even a biscuit. Also, for the lucky ones, you can try a "traditional" meal for the webtoon, in very limited quantity. It includes two pieces of bread, an omelette, a cream of mushroom soup, strawberry jam and a little butter. We weren't lucky enough to have the special meal so we tried the chestnut latte instead!
The big plus of this event? You can receive random photocards as a gift! 12 to collect to be precise and to receive them you have many options: buy items in the store, order a drink or a menu, share the event on social networks, follow the cafe on Twitter and use a specific color. The day we went it was red! Additionally, for every 10,000₩ spent, you'll receive one random postcard out of 16 to collect. Lastly, you also get a random rollercoaster if you order a drink. There are 8 of them!
The café is divided into two equal parts: one for the shop and the other for the photographic exhibition where you can enjoy your drink and food. Regarding the store, you can find items from other webtoons, manga and anime, but only a small part was dedicated to "Under The Oak Tree". However, the exhibition displays many different photos, so it is well worth the visit. As far as the different items for sale are concerned, you can order them on the internet. However, some are sold out and can only be purchased at the cafe. Below you can find a list of the different products offered for sale:
From top left to bottom right: desk pad/blanket/perfume/binder/keychains/pin button.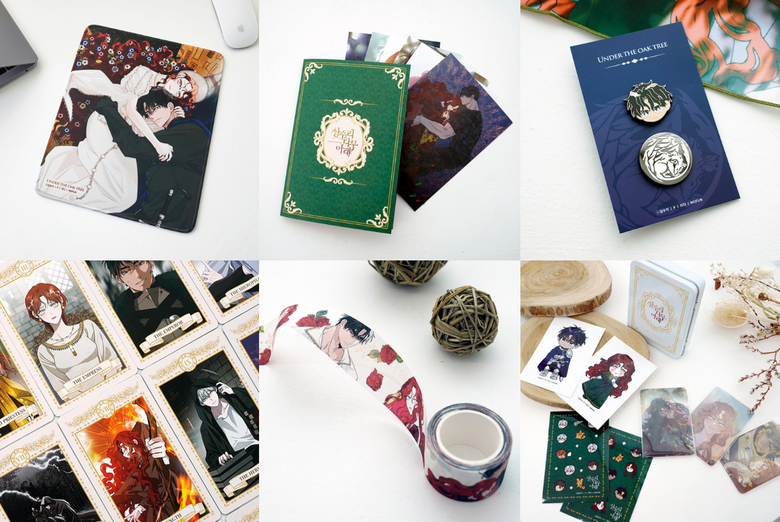 MOFUN Store From top left to bottom right: mouse pad / holographic postcards / pin badge / tarot card / ribbon / tin case.
From top left to bottom right: bracelet / soap / acrylic figure / clipboards / fabric poster / cleaning cloth.
From top left to bottom right: glipik / glass / plush characters / lamp and on the right, what we buy and get as a gift!
As you can see, there are many items available, for every possible taste. We personally purchased the standee and tarot card! If you want to order something, you can at the MOFUN Store here. Coffee events are quite common in Korea, especially in K-Pop. Have you ever been to this type of event? If so, let us know in the comment below!