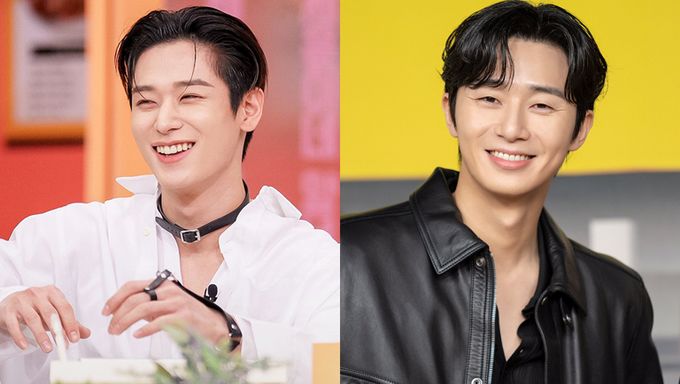 Welcome to Kpopmap's newest weekly series, K-Variety Round Up! We know that Monday can be one of the hardest days of the week for many reasons. The Monday Blues is a global phenomenon that can infect everyone at any time. But through K-Variety Round Up, we hope to provide the perfect serotonin boost to help alleviate a dull Monday.
Through this series, we focus on some tidbits and highlights from various Korean variety shows that you might have missed over the past week/weekend. These clips may appear on social media feeds, but it can be hard to watch them all considering the sheer amount of variety shows out there, along with our busy schedules.
But we're here to make things a little easier and bring the joy of these shows within your reach. Now, let's take a look below for some well-deserved Monday pick-me-up!
1. Park SeoJun's words of encouragement
seojoon came up to yumi just to encourage her not to panic and said she can take her time 🥺 "noona slow is better than messing up" #JinnysKitchen #Park Seo-joon #jung yumi #Seojin pic.twitter.com/QArGH1gtXw

— hate (@ttojunie) March 5, 2023
Sometimes you need that little pep talk as you get ready for work in the morning. It's understandable when you face another busy day at work. But why get excited when you can get one from iconic actor Park SeoJun! In the most recent episode of one of tvN's newest variety shows, "jinny's kitchen", Park SeoJun had a lovely exchange with co-star, Jung Yu Mi.
YuMi was busy preparing food for the customers and due to the long wait, she was in a hurry to deliver the orders. Seeing this, SeoJun comes to her side and offers words of comfort. "Going slow is better than messing up." The moment may have been brief, but it was imbued with a sincerity that can be felt by all viewers. It was as if the actor was speaking to all of us by offering this gentle reminder.
2. Eating with the Kids in "Superman Is Back"
No matter how bad a Monday is, kids have the power to make even the worst days infinitely better. Whether they are playing happily or simply resting, you can't help but smile in the presence of a child. The same can be said when watching them in "superman is back".
In this episode, THE BOYZ' young hoon It is juyeon make an appearance on the wildly popular variety show, along with variety superstar kwanghee. The three are seen having a nice meal with the brothers of Park Na Eun, GeonHu ParkIt is park jinwoo. One of the highlights was YoungHoon being unable to interpret baby JinWoo's wishes. Though the pair had issues during their meal, their interactions were absolutely adorable to watch. You can't help but smile when you see JinWoo's frustration and YoungHoon's desperation to get along with the child.
3. Hilarious version of 'Some' by SoYou and Jungigo
'Some' is an iconic K-Pop love song, giving rise to the slang of the same name that many Koreans use today. With the combination of SoYou and Jungigo's spectacular vocals, 'Some' has become ingrained in the minds of many people across the world. It's sweet with the power to make anyone want to go out on an adorable date. There have been countless versions of the iconic track, but leave that to the cast of "saturday night live korea"to make the love song comical and fun in its appearance on the JTBC program"knowledgeable brothers".
In the duet between actors Joo Hyun Young It is Jung Sang Hoon, they sing under the personas of a Japanese and a Chinese, respectively. This gives way to a never-before-seen version of the legendary hit song. It was even hard for HyunYoung to contain his laughter when SangHoon started singing, but they completed the segment without any problems. The whole studio loved it and we can't help but admit that this version looked amazing. We need full coverage of them immediately!
4. Fancam of JuYeon "Amazing Saturday" by THE BOYZ
Sometimes it doesn't take much to shake off the Monday blues. A true and proven stimulus can come in the form of a simple fancam of our favorite idol. Whether or not THE BOYZ's JuYeon is her definitive bias, this fancam will definitely take away some of the melancholy that comes with the start of the work week.
For starters, he does a short, danceable cover of INFINITEof the hit song, 'Be Mine'. Since its inception, all longtime K-Pop fans have surely been singing and dancing along to this iconic track. Then, we are treated to a sweet interaction between the male idol and Girls' Generation's Taeyeon dancing to THE BOYZ's trendy and addictive 'Thrill Ride'. This fancam is the perfect video to get you moving and watching this Monday!
We hope that with this edition of K-Variety Round Up, your Monday will be filled with happiness and strength. Fighting!
Which of these K-Variety moments is your favorite? Let us know in the comments.