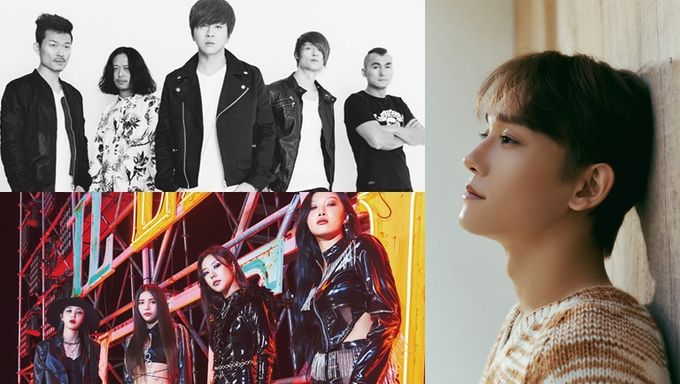 There are a wide variety of popular Korean singers today who have a lot of devoted listeners both in Korea and abroad. The K-Pop scene has dominated pop music even in Western countries, proving its popularity and ability to cross borders. With the amount of tremendously skilled idols, attractive fashion, complex dances and high production value, K-Pop gains more and more fans every day.
However, Korean popular music dates back over the decades and has seen the release of iconic songs that endure to this day. As the current pop music scene continues to develop, many of today's younger generation may not be aware of some of these artists and their work.
Many hot and active idols have covered beloved Korean songs over the past few decades. Looking to their reputable music industry veterans, they always manage to do this to a high standard, letting their own colors shine too.
These are some of the best K-Pop idol covers of popular Korean songs from the 1970s to 2000s.
1. 'Violet Fragrance' by Kang Susie, sung by IU
Kang Susie is a very popular singer in the 1990s. She debuted in 1990 with her debut album "Violet Fragrance" and was loved by many for her sweet and tender vocal tones and beautiful visuals. 'Violet Fragrance' is a song that describes the enchanted feeling of meeting that special someone. It showcases his enchanting voice and even more than 30 years after its release, many still love the song. IU, who is currently one of the most popular female singers, is also known for her distinctly delicate voice and was able to keep the audience captivated as she performed the song.
2. 'About Thirty' by Kim KwangSeok, sung by INFINITE's SungKyu
Legendary folk-rock singer of the 1980s and 1990s, Kim KwangSeok has established himself as one of the legends of South Korean music. He initially debuted in 1987 with activist folk band Noraereul Channeun Saramdeul (노래를 찾는 사람들). In 1988, he gained great popularity as a member of the band Zoo (동물원). The following year, he released his first solo album and continued to enjoy success throughout the 1990s. 'About Thirty' is one of his most iconic songs. Who better to cover it than INFINITE's SungKyu with his clean vocals and distinctive tone?
3. 'Seoul's Maternal Love' by Patti Kim, sung by Xdinary Heroes
Up and coming new band Xdinary Heroes covered Patti Kim's 'Seoul's Maternal Love' on Immortal Songs 2 as part of Patti Kim's special edition episodes that ran for three weeks. Originally released in the early 1970s, 'Seoul's Maternal Love' describes the sights of Seoul, the memories and the feeling of love and hope that the city brings. Xdinary Heroes managed to put their own rock spin on the music while still keeping the same desire for Seoul. Patti Kim herself seemed completely impressed with the young band's performance.
4. Buzz's 'Thorn' sung with EXO's Chen and Baekhyun
What's better than two 3rd generation K-Pop vocal powerhouses teaming up to sing one of Buzz's most iconic songs with the band's lead vocalist, min kyung hoon, himself? Buzz is a rock band that debuted in 2003. Even now, they continue to woo listeners with their heartfelt music and Min KyungHoon's unique singing. Chen and BaekHyun's smooth voices with Min KyungHoon's unique vocal style (as well as ChanYeol's drums and guitar) are not something to be missed.
5. Then, 'Tears' by ChanHwee, sung by BTOB's EunKwang
So ChanHwee's 'Tears' is known for its notoriously defiant high notes in the chorus. It's a song that has been sung by many great vocal talents since its release in 2000. BTOB's EunKwang is one such great vocal talent. He showed off his undeniable talents once again, pulling off high marks with ease, surprising even his own group members.
6. 'Uphill Road' by Yoon JongShin, sung by PENTAGON's JinHo and YeoOne
Yoon JongShin is a ballad singer who debuted in 1991. He is known for his heartfelt and heartwarming songs. His discography consists of iconic songs including 'Like It', 'The Vertical' and 'Uphill Road'. As part of PENTAGON JinHo's Youtube series called 'Magazine Ho', he sang 'Uphill Road' with fellow member YeoOne. JinHo and YeoOne are the perfect members to cover the song with their excellent vocal skills. This was a comforting and emotional cover that keeps listeners coming back.
7. 'Flying, Deep In The Night' by Lee MoonSae, sung by MAMAMOO
Lee MoonSae is another of Korean music legends, emerging onto the entertainment scene as a singer in the early 1980s. Her most popular songs include 'Sunset Glow', 'Only The Sound Of Her Laughter' and 'Flying, Deep In The Night' . MAMAMOO, a girl group known for their superb vocals, covered their song 'Flying, Deep In The Night' on Immortal Songs 2. They performed the song while expressing their own vocal and performance style. With this, they proved why they deserve the nickname 'Vocal Queens'.
8. YB's 'A Flying Butterfly' sung along with NCT's TaeIl, DoYoung, JungWoo and HaeChan
YB is a Korean rock band formed in 1996 and is known for its retro yet modern sound, strong performances, and Yoon Dohyun's raw and classic yet edgy rock vocals. TaeIl, DoYoung, JungWoo and HaeChan sang YB's 'A Flying Butterfly' with the band's main vocalist behind the song. The four vocalists of NCT delivered a captivating performance with Yoon Dohyun for "2021 MBC Gayo Daejejeon". All five showcased their individual voices to put together a great show.