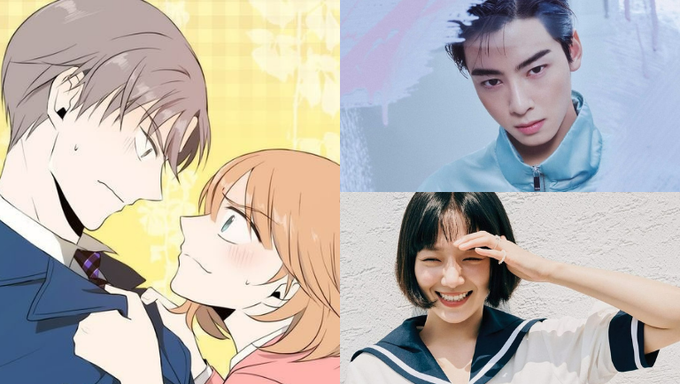 ASTRO's Cha EunWoo and Park GyuYoung are gearing up for the romantic comedy of the year: "A Good Day To Be A Dog". Based on the original webtoon of the same name by Lee Hey, this drama is set to explore the story of a young girl named Han HaeNa (HaNa in the English version) who is cursed to turn into a dog at midnight after her first kiss. This curse can only be lifted by a second kiss from the same person she had her first kiss with, albeit as a dog. However, this becomes practically impossible, considering that the boy who was her first kiss, Jin Seo Won (Jin Seon in the English version), is deathly afraid of dogs because of past traumas.
Park GyuYoung will play HaeNa and Cha EunWoo will play SeoWon in the K-Drama adaptation of "A Good Day To Be A Dog". Fans are celebrating this cast all over the world, even more so as we've seen their chemistry before in the music video for 'You're The Reason' by URBAN ZAKAPAwhere they played a couple.
With all the excitement surrounding "A Good Day to Be a Dog", we've picked 3 scenes from the webtoon that you should definitely look forward to in the drama.
Spoiler alert!
1. The First Kiss
The story begins with HaeNa lamenting her doomed love life because none of her relationships seem to last after she declares to her boyfriends that she cannot kiss them. After getting really drunk at an office party, she finally decides to kiss her crush Lee BoGyeom (played by Lee HyunWoo). However, the man she ends up kissing is Jin Seo Won. You know how they say: "the worst they can say is no"? Well, in SeoWon's case, it's actually much worse, and the expression on her face says it all. This scene will likely appear in the first episode of the drama and will set the tone and premise for the rest of the series. series of exciting kisses that await us.
2. The shadow scene
In this scene from Chapter 46, SeoWon starts to realize that he has feelings for HaeNa. However, being the reserved, respectful, and cautious man that he is, particularly when he's around his colleagues, he can't do much to overtly express this. So when he finds HaeNa napping in the sun, he stays still in front of her to cast some shade and allow her to sleep comfortably. Our tsundere King!
Even though this is a small expression of his affection for HaeNa, the scene will have you screaming how cute he is, especially when EunWoo and GyuYoung recreate him.
3. The Confession Scene
Finally, we couldn't conclude without the scene that everyone is looking forward to the most in the drama – the confession scene! In the webtoon, in chapter 60, after a lot of back and forth, we finally see SeoWon giving in to his feelings for HaeNa. On this particular day, HaeNa plans to tell SeoWon about her curse, but SeoWon finds this out through a former classmate/bully, who was partially responsible for her trauma with dogs. For a moment, he's not sure what to do, but then he makes up his mind. However, before he can confess, the clock strikes 12 o'clock and HaeNa transforms into a dog right in front of his eyes.
SeoWon is visibly surprised, but quickly realizes that if this dog really is HaeNa, then he has nothing to be scared of. The rain pours down on them and SeoWon extends her umbrella over HaeNa's dog form. Kneeling down, he picks her up and kisses her, lifting her curse. She transforms back into human HaeNa and SeoWon finally says what's been on his mind and heart for as long as he can remember – "I like you".
In addition to these scenes, there are countless others that will give you butterflies, make you daydream, break your heart and make you cry buckets. So don't forget to tune in to "A Good Day To Be A Dog", due out later this year!
What other webtoon scene are you looking forward to seeing in the drama? Tell us in the comments section below!